Well written article
by Jennifer Detlefsen in GAS news, Glass Art Association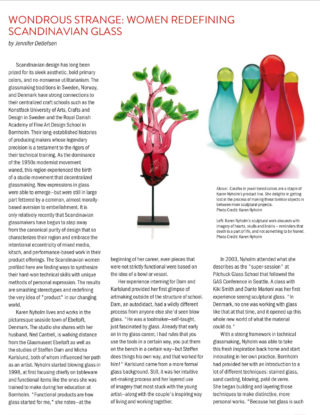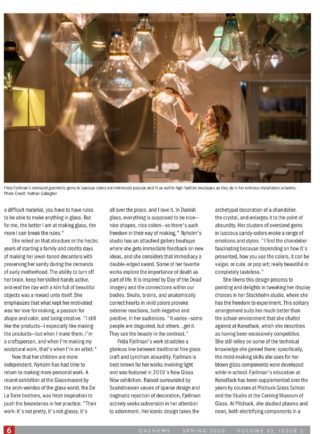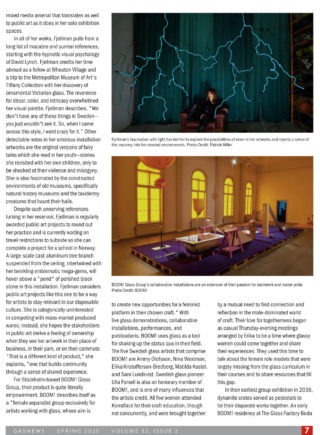 Scandinavian design has long been prized for its sleek aesthetic, bold primary colors and no-nonsense utilitarianism. The glassmaking traditions in Sweden, Norway and Denmark were no exception; centralized craft schools such as Konstfack University of Arts, Crafts and Design in Sweden and the Royal Danish Academy of Fine Art Design School in Bornholm produced makers whose legendary precision was a testament to the rigors of their technical training. As the dominance of the 1950's modernist movement waned, this region experienced the birth of a studio movement that decentralized glassmaking. New expressions in glass were able to emerge – but were still in large part fettered by a common, almost morally-based aversion to embellishment. It is only relatively recently that Scandinavian glassmakers have begun to step away from the canonical purity of design that so characterizes their region and embrace the intentional eccentricity of mixed media, kitsch and performance-based work in their product offerings. The Scandinavian women profiled here are finding ways to synthesize their hard-won technical skills with unique methods of personal expression. The results are smashing stereotypes and redefining the very idea of "product" in our changing world. 
Frida Fjellman's work straddles a glorious line between traditional fine glasscraft and Lynchian absurdity. Fjellman is best known for her works involving light, and was featured in 2019's New Glass Now exhibition. Raised surrounded by Scandinavian values of sparse design and dogmatic rejection of decoration, Fjellman actively seeks subversion in her attention to adornment. Her iconic design takes the archetypal decoration of a chandelier, the crystal, and enlarges it to the point of absurdity. Her clusters of oversized gems in luscious candy colors evoke a range of emotions and styles. "I find the chandelier fascinating because depending on how it's presented, how you use the colors, it can be vulgar, or cute, or pop art; really beautiful or completely tasteless." 
She likens this 
design process to painting, and delights in tweaking her display choices in her Stockholm studio, where she has freedom to experiment. This solitary arrangement suits her much better than the school environment that she chafed against at Konstfack – which she describes as having been excessively competitive. She still relies on some of the technical knowledge she gained there; specifically, the moldmaking skills she uses for her blown glass components were developed in school. Fjellman's education at Konstfack has been supplemented over the years by courses at Pilchuck Glass School and the Studio at the Corning Museum of Glass. At Pilchuck, she studied plasma and neon, both electrifying components in a mixed media arsenal that translates as well to public art as it does in her solo exhibition spaces.
In all of her works, Fjellman pulls from a long list of macabre and surreal references, starting with the hypnotic visual psychology of David Lynch. Fjellman credits her time abroad as a fellow at Wheaton Village with her discovery of ornamental Victorian glass, and was equally seduced by a trip to the Metropolitain Museum of Art's Tiffany Collection. The reverence for décor, color and intricacy overwhelmed her visual palette. "We don't have any of these things in Sweden –you just wouldn't see it. So when I came across this style, I went crazy for it." Other detectable notes in her ominous installation artworks are the original versions of fairy tales which she read in her youth – stories she revisited with her own children, only to be shocked at their violence and misogyny. She is also fascinated by the constructed environments of old museums, specifically natural history museums, and the taxidermied creatures that haunt their halls. 
Despite such unnerving references lurking in her reservoir, Fjellman is regularly awarded public art projects to round out her practice, and is currently waiting on travel restrictions to subside so that she can complete a project for a school in Norway. A large-scale cast-aluminum tree branch suspended from the ceiling, intertwined with her twinkling emblematic mega-gems, will hover above a "pond" of polished black stone in this installation. Fjellman considers public art projects like this one to be a way for artists to stay relevant in our disposable culture. She is categorically uninterested in competing with mass-market produced wares, instead hoping that the stakeholders in public art derive a feeling of ownership when they see her artwork in their place of business, in their park or on their commute. "That is a different kind of product," she explains – one that builds community through a sense of shared experience. 
Fjellman has a long list of similar projects she's excited to explore in the near future. Her firm belief in the futility of multitasking drove her to turn down opportunities for the last several years as she focused on raising her daughters – but she has recently started saying yes again, and the opportunities on the horizon, including a show in Los Angeles in 2021, are thrilling for her. Her momentum now bears an interesting parallel to her feelings on modernism. "It's not that I don't like modernism. I do – there are many wonderful things about it. But it's never good to try to control what someone else should think – the pendulum is going to come back and hit you." She's swinging back into action with a vengeance, and at this point in her career she feels fully empowered to bringing the weird right along with her.
— 2020-06-22 —