http://www.regeringen.se/artiklar/2018/05/exportpriset-for-kreativa-och-kulturella-naringar-2017/
Thankful for this nomination from the Swedish government
Nomineringar till exportpriset för kreativa och kulturella näringar 2017
"… 
Frida Fjellman
Frida Fjellman hör till den lilla men exklusiva skara svenska konsthantverkare som hyllats på såväl Art Basel som Design Miami. Att bli uppmärksammad på dessa två internationellt erkända ledande plattformar för samtida konst respektive design under 2017, visar att Frida Fjellman skapat ett eget utrymme inom den samtida bild- och formkonsten. Hennes nyskapande tolkning av den klassiska kristallkronan har fått strålande recensioner i global media och förärades en separatutställning på Hostler Burrows Gallery i New York.
Frida Fjellman besitter en unik och djärv talang som hon utan rädsla använder till att förflytta gränserna för svenskt handblåst glas och glaskonst på en global scen. Frida Fjellmans mod för henne – och betraktaren – långt från typisk svensk, lågmäld minimalism och visar på en modig personlig tolkning av framtida svensk estetik som släppt in världen. Utan att någonsin förlora sin svenska historiska kontext. Frida Fjellman finns representerad på ledande institutioner som Nationalmuseum, Ebeltoft Glass Museum i Danmark, Röhsska Museum i Göteborg, The American Museum of Glass i New Jersey med flera. Hon har designat för Kosta Boda sedan 2016 och hennes verk säljs via Kosta Bodas butiker och internationella samarbetspartners…"
In english…
Frida Fjellman
Frida Fjellman belongs to the small but exclusive group of Swedish craftsmen who have been fêted by both Art Basel and Design Miami. To be noticed by these two internationally renowned leading platforms for contemporary art and design in 2017 shows that Frida Fjellman has created her own space in contemporary visual and design arts. Her innovative interpretation of the classic chandelier has received wonderful reviews in global media and was honoured with a solo exhibition at Hostler Burrows Gallery in New York. Frida Fjellman possesses a unique and bold talent that she fearlessly uses to shift the boundaries for Swedish handblown glass and glass arts on a global stage. Frida Fjellmans courage transports her – and the beholder – far away from typically Swedish, unobtrusive minimalism and shows a brave personal interpretation of a future Swedish aesthetic which has welcomed the outside world. Without ever having lost her Swedish historical context. Frida Fjellman's work is represented at leading institutions including the Nationalmuseum in Stockholm, Ebeltoft Glass Museum in Danmark, Röhsska Museum in Gothenburg, and the American Museum of Glass in New Jersey. She has been designing products for Kosta Boda since 2016 and her work is sold by Kosta Boda stores and its international partners.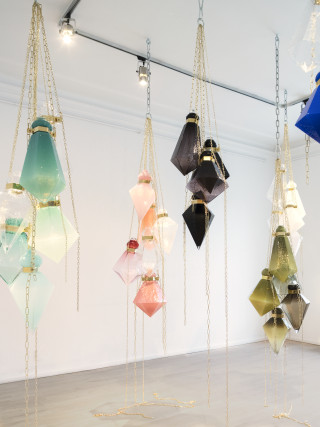 Foto: Joachim Belaieff 
— 2018-05-06 —